Recipe info
Category: MOROCCO
Rating: 5.00
Contributor: n/a

Print this Page
Tagine of meat and prunes
Ingredients for 12 people

1 and ½ kg of mutton meat(shoulder), cut into pieces
500 g of prunes, washed and swollen in water
100 g of blanched and fried almonds
2 middle onions
3 cloves of garlic
2 sticks of cinamon
1 soup spoonful of granulated cinamon
1 coffee spoonful of granulated ginger
1 pinch of crushed natural safran
½ cup of sesame seed
5 soup spoonful of granulated sugar
1 coffee spoonful of salt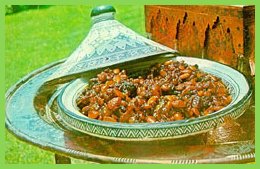 Preparation

In a container, put the meat cut into pieces, add salt, oil, spices, 1 cruched onion and garlic, mix, leave it to impregnate, then add water, cover the container and cook for 20 mn on a middle fire.

Take 2 soup ladles of sauce from the container to a saucepan, use that sauce to cook the prunes, when almost cooked, add 3 soup spoonful s of sugar and 1 soup spoonful of cinamon, allow to simmer.

Add meat, the second crushed onion,sprinkle with 2 soup spoonful of sugar and finish cooking(15 mn), mix frequently.

Blanch fry and drain almonds, grill the sesame seed slightly in a dry shallowpan

Serve meat and prunes in a plate, water them with sauce and decorate with fried almonds and sesame.