Recipe info
Category: EGYPT/Sweets and Desserts
Rating: 0.00
Contributor: n/a

Print this Page
Blueberry And Orange Salad with Lavender Meringues
Serves 4

6 oranges
350g/l2oz/3 cups blueberries
8 fresh lavender sprigs
For the meringue
2 egg whites
115g/4oz/1/2 cup caster sugar
5ml/1 tsp fresh lavender flowers
Cook's Tip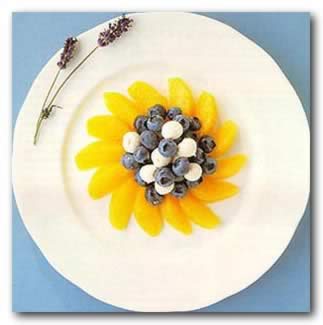 Delicate blueberries and tangy oranges are combined with tiny lavender-flavored meringues in this simple but stunning fruit salad. Lavender sprigs add the final decorative touch.
Lavender is used in both sweet and savory dishes.
Always use fresh or recently dried flowers, and avoid artificially scented bunches that are sold for domestic purposes. Of course, if you can't find fresh lavender, then you could just make plain meringues.

Preheat the oven to 140°C/275°F/Gas 1. Line a baking tray with six layers of newspaper and cover with non-stick baking paper. Whisk the egg whites in a large mixing bowl until they hold soft peaks. Add the sugar a little at a time, whisking thoroughly after each addition until the meringue is thick and, glossy, then fold in the lavender flowers.

Spoon the meringue into a piping bag fitted with a 5mm/1/4 in plain nozzle. Pipe as many small buttons of meringue on to the prepared baking sheet as you can. Bake the meringues near the bottom of the oven for 1/2-2 hours. To segment the oranges, remove the peel from the top, bottom and sides with a serrated knife. Loosen the segments by cutting with paring knife between the flesh and the membranes, holding the fruit over a bowl. then arrange the segments on four plates

Combine the blueberries with the lavender meringues and pile in the center of each plate. Decorate with sprig of lavender and serve.