Recipe info
Category: IRAQ
Rating: 4.00
Contributor: n/a

Print this Page
Water Melon Rind Jam
1 pound water melon rind (measure after removing the green outer skin and all traces of pink)
1 1/2 cups sugar
1 strip lemon peel
3 tablespoons honey
A few melon seeds
1 tablespoon lemon juice
1/4 teaspoon mastic, or 1/2 teaspoon mastic cream (see glossary), or 3 whole pods cardamom
Cut rind into 1/3-inch strips. Cover in cold water and bring to a quick boil. Reduce heat, and let simmer slowly until transparent, about 30 minutes. Drain, and reserve 1 1/2 cups of liquid.
In a heavy pot, completely dissolve sugar in reserved liquid. Add honey and lemon peel, and bring to a boil, skimming as needed. Add drained rind and seeds and boil gently over medium heat, for 15 minutes. Remove from heat, cover, and set aside overnight.
Boil again over medium heat, until syrup thickens, about 15 minutes. Test for doneness.
Add lemon juice and mastic or cardamom 5 minutes before jam is done. Let jam cool completely then store in a sterilized jar.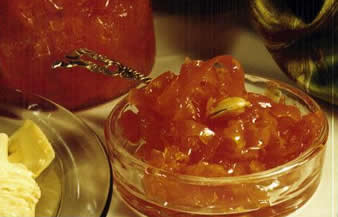 With all the jams cooking in the region, there was a time when the only imported variety was the Australian water melon rind jam. It was good but it lacked the enticing aromas of the cardamom, rose water, mastic, and lots of other spices of the home made varieties. Here is how you can make it at home: